S

eptember 2021 Holiday Workshop
(P3 & P4)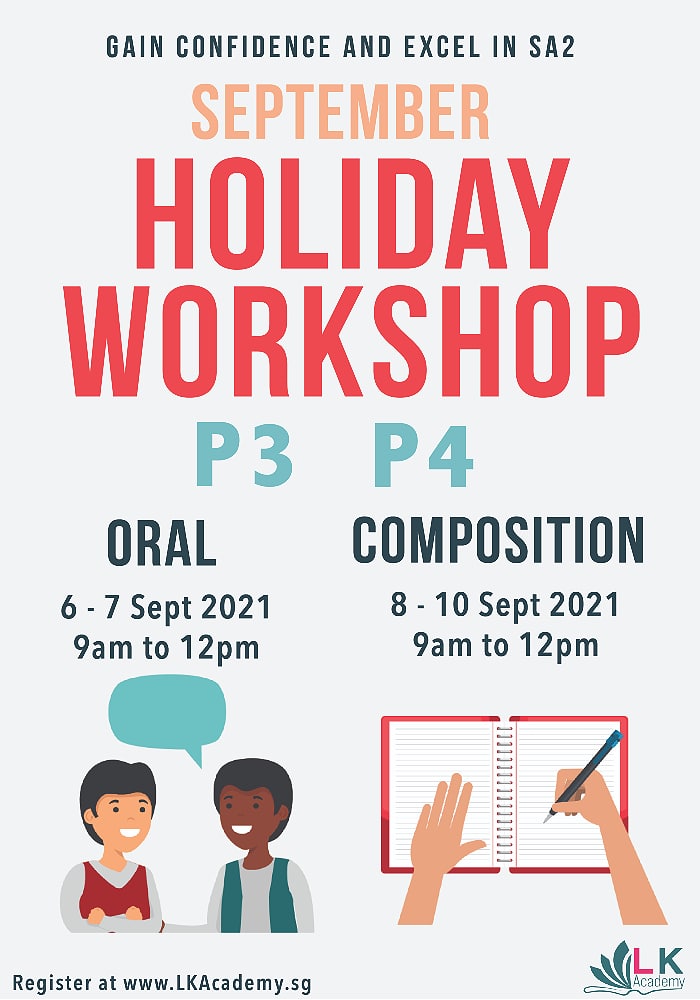 Oral
Our Oral Workshop helps students gain the confidence they need for an oral exam setting, for both Reading Aloud and Stimulus-based Conversation.
The workshop will tackle the following difficulties commonly faced by students :
READING ALOUD COMPONENT
How to read aloud with conviction, to impress the examiner
Articulating difficult words clearly
How and when to change tone and expression
Applying LK techniques during the Reading Aloud component, that will allow students to score
STIMULUS-BASED CONVERSATION COMPONENT
How to understand the stimulus and predict questions before starting the Oral exam
How to answer questions on the spot in a confident and well-thought-out manner
Answering curveball questions calmly, confidently and maturely
Expressing personal opinions and articulating thoughts clearly
Applying vocabulary to impress throughout the conversation
Being aware of phrasing while conversing
How to apply the details of the stimulus in their spoken answers
How to include personal responses/experiences as part of the Stimulus-based Conversation
Applying special LK techniques to score!
Students will also be trained on accurate body language, how to use eye-contact naturally and be taught how to overcome a 'brain-freeze'.
Mock Oral Exams will be conducted each day to help students apply what is taught into a real exam setting. This will also help students to overcome nerves.
Most importantly, our workshop will help students add a 'wow factor' and gain confidence for their Oral Exam!
Composition
Our P3 and P4 Composition Bootcamp helps students write confidently.
Our workshop will help students grapple with the following struggles usually faced by P3s and P4s during composition writing :
Not knowing how to begin a composition
Getting 'stuck' and not knowing how to continue
Deepening a story plot
Coming up with a strong Problem, Climax, Solution and Conclusion, and consequently, articulating thoughts into words
Using vocabulary to describe different scenarios, to score!
How to plan and write a story composition plot within a time limit
Self-confidence when writing a composition
We teach all our students how to add maturity in their compositions. Another important aspect to help students score is adding a touching element - we will guide students on how to incorporate this into their compositions.
Most importantly, we aim for our P3s and P4s to attain the ultimate self-confidence to write independently for composition writing!
Accomplish your SA2 composition with the ultimate self-confidence!
September Holiday Workshop -
Oral
Level: P3 - P4
Date: 6 - 7 Sep 2021
Time: 9.00am - 12.00pm
Price: $255.00 per participant
September Holiday Workshop -
Composition
Level: P3 - P4
Date: 8 - 10 Sep 2021
Time: 9.00am - 12.00pm
Price: $365.00 per participant