A Step-By-Step Guide To Writing A Compelling Composition For Students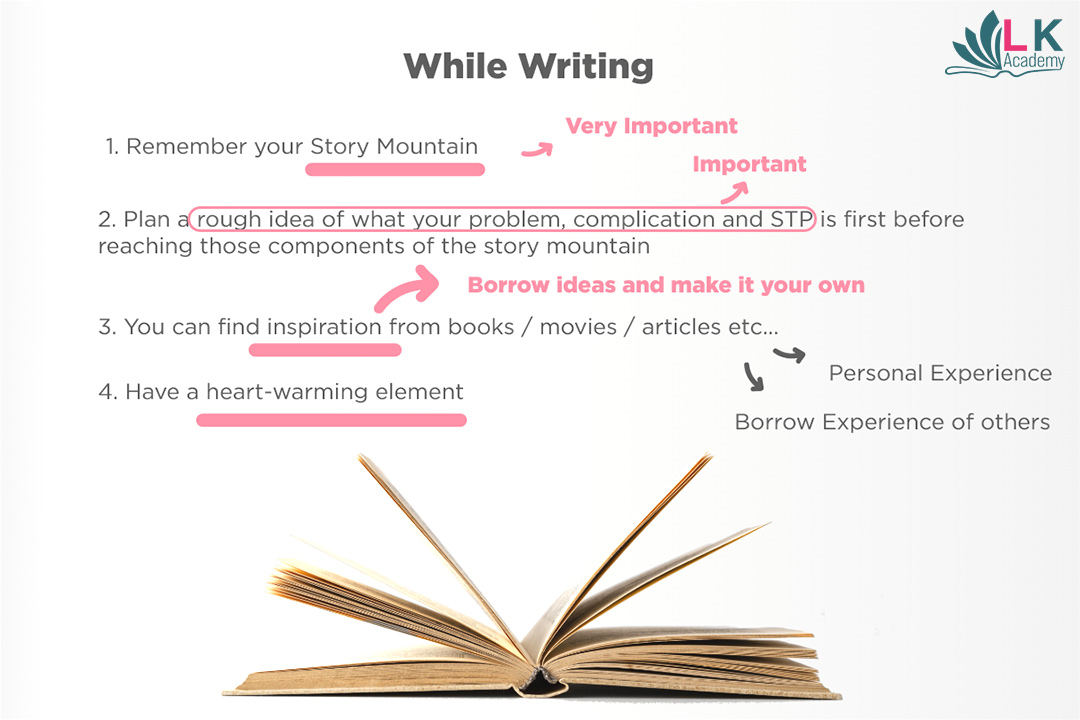 Composition writing is an integral part of every student's academic journey, starting as early as Primary One. It tests their ability to create and write compelling compositions using their knowledge of vocabulary, grammar, and sentence structures, as well as their instinct for making a story flow well in order to keep readers engaged. Ultimately, being able to write well bodes well for every student regardless of the career they will eventually pursue. Being able to write succinct reports, communicate ideas well, or even craft marketing copy all stems from having strong writing skills. If this is something your child is struggling to achieve, here's a simple guide on how they too can learn to write compelling compositions, courtesy of LK Academy's
tuition centre in Singapore
.
Story Mountain
The story mountain is the most basic blueprint for structuring a composition that every Primary School student will be taught. In LK Academy's creative writing programme for primary school, the story mountain illustrates the trajectory of how a proper story should be written — opening the story and setting the scene at the start; slowly building up the tension leading to the crux of the story; releasing the build-up at the climax of the story; resolving the problem and finally, finishing the story off with an impactful ending. This is a simple outline on how a story should be structured, but students shouldn't have to worry too much about following every pointer to the letter as stories are fluid after all, and there's a risk that the story would turn out too rigid if students feel obligated to fit its elements perfectly into a prescribed structure. In short, nudge them gently with these pointers as the story mountain in composition writing is a perfect guide to school-based compositions.
Character Development
A common mistake students make whilst writing compositions is that they fail to adequately develop their plot. Our Primary School English tuition in Singapore teaches students how to breathe life into their plots through various means, from adding distinctive quotes to adding depth into their narratives, such as a back story or a personal struggle relevant to the plot. Writing a mature plot takes good writing skills and knowing 'How' to write a mature plot takes training, practise and inspiration. Borrowing ideas from books and movies, making it their own with the structure of the story mountain, are excellent ways. Infusing the heart-warming elements and even humour elements contributes to creating a mature plot in creative writing for primary school.
Creative Writing Techniques
The beauty about composition and creative writing is the freedom to "bend the rules" a little, as in, write out of the box to present the same ideas in creative ways. It's like cooking — creative plating can turn an ordinary dish into something quite stunning. Here at LK Academy's tuition centre in Singapore, we often encourage students to think unconventionally and challenge existing status quos when it comes to writing by using these simple techniques to add some variety into their stories:
Start with a rhetorical question, such as "It all seemed so simplistic; what could possibly go wrong?" to get readers anticipating the exact opposite later in the story. Do refrain from oversaturating the composition with too many questions.
Bring in dialogues as a means to humanise your characters by giving readers the illusion that they possess independent trains of thought and not the puppets that they are, under the writer's control. This shouldn't be overdone, however, as the most important voice of any story should still be the narrator's.
Infuse personifications, vocabulary and quotes to strengthen the composition writing.
If there's something that shouldn't be detoured, it would be the climax itself. After all, this is where you release all the pent up tension built prior to this. Be concise and impactful, like the drop of a rollercoaster after climbing to great heights prior. All that suspense gets released in one fell swoop.
Use PSLE-styled Language
Ultimately, composition writing is a test of one's proficiency in the English language and everything in it that has been taught until that point; in this case, PSLE. Students should therefore get up to speed with the syllabus and demonstrate their understanding by using those elements in their writing. Our creative writing for Primary School programme is also designed to bridge these gaps in our students' understanding of the PSLE English syllabus, expanding their repertoire of relevant linguistic abilities to be used in their composition writing.
Prior to composition exams, LK Academy trains students with time management and exam settings. This is crucial as confidence in writing is being tested and timed exam settings help students to overcome the hurdle or stress when writing compositions in school.
Here at LK Academy, we believe that there's a storyteller in every child — so uncover the writer in yours, with us. Visit our website for more details.